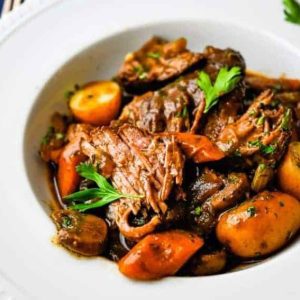 Perfect Pot Roast - Chuck Roast
Ingredients
Kosher salt to taste

Ground black pepper to taste

3-5

pound

Chuck roast

2-3

tbsp

Olive oil

2

whole

Onions, pealed and halved

6-8

whole

carrots, peeled and cut in 2-inch pieces

1

cup

Red wine

3

cups

beef broth

2-3

sprigs

Fresh rosemary

2-3

sprigs

Fresh thyme
Instructions
Preheat oven to 275 degrees F.

Generously salt and pepper chuck roast

Heat olive oil in large pot or Dutch oven over medium-high heat. Add halved onions, browning on both sides. Remove onions to plate

Throw carrots into the same hot pot, toss them around until slightly browned (about a minute or so). Reserve carrots with the onions on the side

If needed, add a bit more olive oil to hot pot. Place meat in pot and sear for about a minute on each side until there is a nice brown all over. Remove roast to a plate

With burner still on, use one cup of red wine to deglaze pot. Scraping bottom with a whisk. Place roast back into pot and add enough beef broth to cover the meat half way.

Add onions and carrots, along with fresh herbs

Put a lid on, then roast for 3 hours for a 3-pound roast. 4 hours for a 4-5 pound roast. Roast is ready when it falls apart and tender

Once roast is falling apart, serve and enjoy!