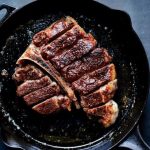 looking for a recipe?
Cast-iron Porterhouse Steak
Perfectly seared and seasoned, this is porterhouse steak recipe that will get it done. It's time to turn your taste buds up to eleven.Throw in some butter, garlic, seared porterhouse wagyu beef from our Wagyu Beef Shop, and there's no way anyone will say no before digging into this easy dish for cooking at home. Grab your oven mitts if ... Read More
Open
Angus Ultra Prime Porterhouse Steak (2.5lbs)
$55.00
The Porterhouse, a T-bone steak but TEXAS SIZED! Porterhouse steaks are cut from the rear end of the short loin and includes more tenderloin steak, along with a large strip steak for more delicious flavor. A porterhouse can be served whole or sliced, depending on how you want to divide it up. For someone with a very hearty appetite, it is a tremendous meal challenge. As a steak for two, a porterhouse makes the perfect steak to indulge in on particularly special occasions.
Ordering is temporarily unavailable while we upgrade our facility!
Wagyu Beef – Delicious and Healthy
The unique taste and tenderness of highly marbled Wagyu beef makes for an unrivalled eating experience. That is why Wagyu beef is finding its way into the diets of caring families across the country. When you want the best farm fresh flavor for your family Wagyu is your answer.
Wagyu is healthier too;   the mono-unsaturated to saturated fat ratio is higher in Wagyu than in other beef and, the saturated fat contained in Wagyu is different. Forty percent is in a version called stearic acid, which is regarded as having a minimal impact in raising cholesterol levels. Wagyu beef is more beneficial and healthier for you and your family.