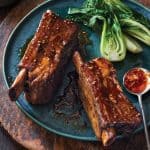 looking for a recipe?
Slow Cooker Short Ribs
With an elegant and savory sauce, this Slow Cooker Wagyu Beef Short Ribs is a tantalizing dish. Serve it at your next dinner party or backyard BBQ. The best part of preparing this meal is that you can do all the work hours ahead of time and then just put it in the crock pot to simmer until ready! SharePinTweet0 ... Read More
Open
Angus Ultra Prime Dino Ribs (10lbs)
$80.00
You must try this one of a kind style of DINO RIBS! These are a super impressive cut, sure to dazzle a party!
Ordering is temporarily unavailable while we upgrade our facility!
Wagyu Beef – Delicious and Healthy
The unique taste and tenderness of highly marbled Wagyu beef makes for an unrivalled eating experience. That is why Wagyu beef is finding its way into the diets of caring families across the country. When you want the best farm fresh flavor for your family Wagyu is your answer.
Wagyu is healthier too;   the mono-unsaturated to saturated fat ratio is higher in Wagyu than in other beef and, the saturated fat contained in Wagyu is different. Forty percent is in a version called stearic acid, which is regarded as having a minimal impact in raising cholesterol levels. Wagyu beef is more beneficial and healthier for you and your family.