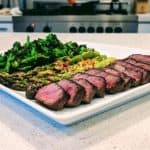 looking for a recipe?
Grilled Denver Steak with Tamarind & Soy Marinade
This Grilled Denver Steak is a meal in itself with this savory and sweet Tamarind & Soy Marinade. The steak provides a fresh, succulent beefy flavor to this classic recipe. This is an appetizing dish for any dinner gathering and friends are sure to love it! With this Grilled Denver Steak recipe, you'll be able to eat like the ... Read More
Open
OUR FAVORITE
Angus Supreme McKinney Steak
$27.99 per pound
$13.99
Welcome to Big Flavor Country! When the butcher keeps this steak for his own family you know it is simply the best. The flavor is better than a Filet and each bite is juicer than the filet. Our daughter Emilia eats these by the pound. When your family wants farm fresh Angus at affordable prices we deliver on that goal. When you have happy cows your family will taste the difference and the farm fresh beef will make a difference in your families health and nutrition.
Ordering is temporarily unavailable while we upgrade our facility!
Wagyu Beef – Delicious and Healthy
The unique taste and tenderness of highly marbled Wagyu beef makes for an unrivalled eating experience. That is why Wagyu beef is finding its way into the diets of caring families across the country. When you want the best farm fresh flavor for your family Wagyu is your answer.
Wagyu is healthier too;   the mono-unsaturated to saturated fat ratio is higher in Wagyu than in other beef and, the saturated fat contained in Wagyu is different. Forty percent is in a version called stearic acid, which is regarded as having a minimal impact in raising cholesterol levels. Wagyu beef is more beneficial and healthier for you and your family.