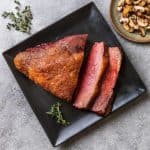 looking for a recipe?
Picanha Roast with Charred Cherry Tomatoes and Onions
SharePinTweet0 Shares
Open
Black Angus Picanha Roast
$20.99 per pound
$0.00
Popularly known in Brazilian Steakhouses as Picanha. Lean, tender and boneless, Coulotte comes from the tip of the sirloin section. Wonderful for roasts, this cut comes with fat cap and silver skin removed and full of the iconic Wagyu marbling.
Ordering is temporarily unavailable while we upgrade our facility!
Wagyu Beef – Delicious and Healthy
The unique taste and tenderness of highly marbled Wagyu beef makes for an unrivalled eating experience. That is why Wagyu beef is finding its way into the diets of caring families across the country. When you want the best farm fresh flavor for your family Wagyu is your answer.
Wagyu is healthier too;   the mono-unsaturated to saturated fat ratio is higher in Wagyu than in other beef and, the saturated fat contained in Wagyu is different. Forty percent is in a version called stearic acid, which is regarded as having a minimal impact in raising cholesterol levels. Wagyu beef is more beneficial and healthier for you and your family.