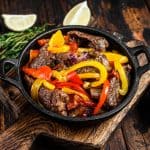 looking for a recipe?
Wagyu Steak Fajitas
A hearty dish with a satisfying kick, these Wagyu steak fajitas are your new best friend for entertaining or that backyard get together. SharePinTweet0 Shares
Open
Angus Ultra Prime Fajita Steak (1lb)
$8.00
Nothing compares to the tender delicious flavor of Angus Fajita Steak! Mix with your favorite spices and homemade flour tortillas, sauté up some pepper and onions and enjoy the fruits of your labor! Delightful summer delicacy that is quick and easy to cook up and serve to your family!
Ordering is temporarily unavailable while we upgrade our facility!
Wagyu Beef – Delicious and Healthy
The unique taste and tenderness of highly marbled Wagyu beef makes for an unrivalled eating experience. That is why Wagyu beef is finding its way into the diets of caring families across the country. When you want the best farm fresh flavor for your family Wagyu is your answer.
Wagyu is healthier too;   the mono-unsaturated to saturated fat ratio is higher in Wagyu than in other beef and, the saturated fat contained in Wagyu is different. Forty percent is in a version called stearic acid, which is regarded as having a minimal impact in raising cholesterol levels. Wagyu beef is more beneficial and healthier for you and your family.